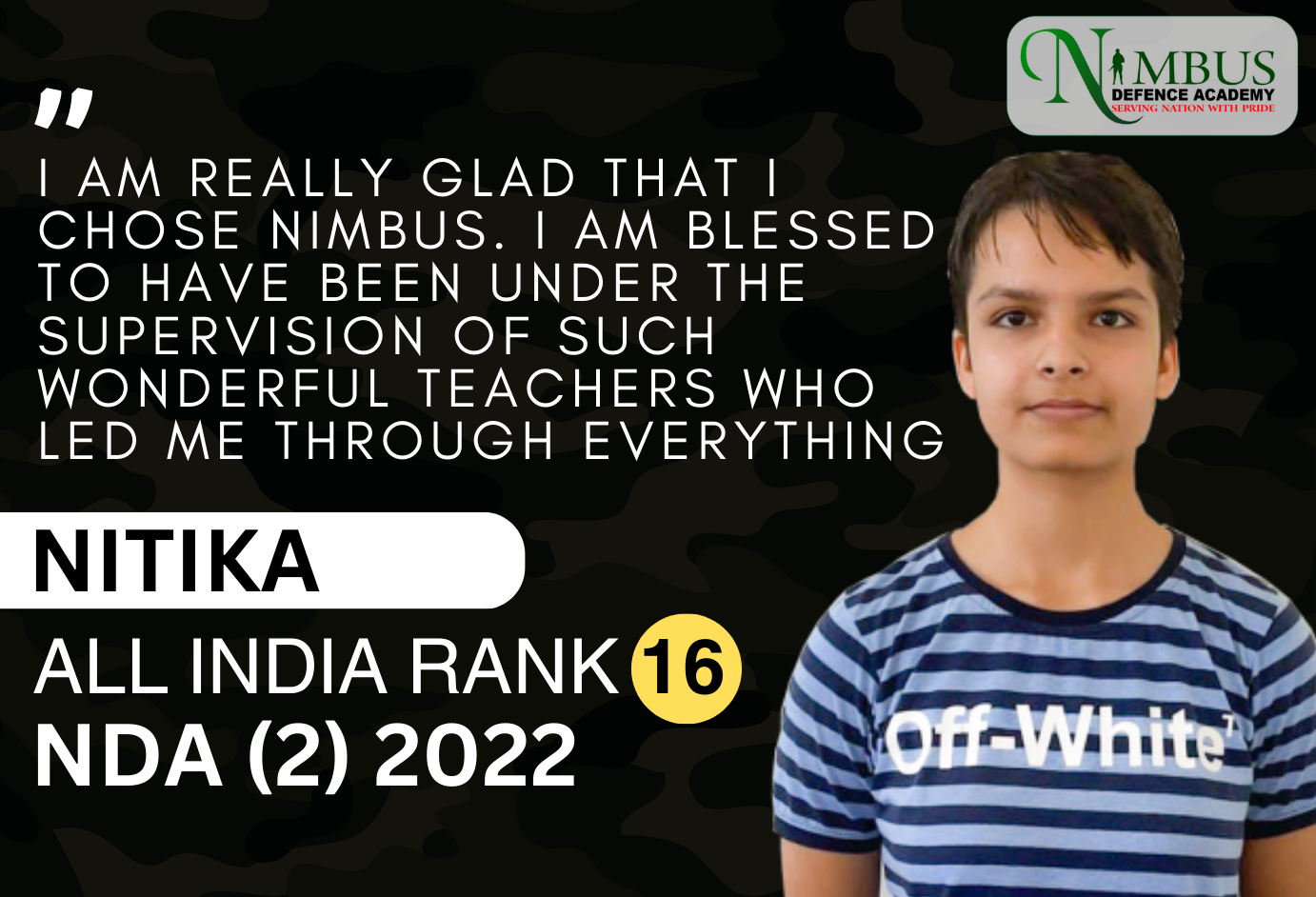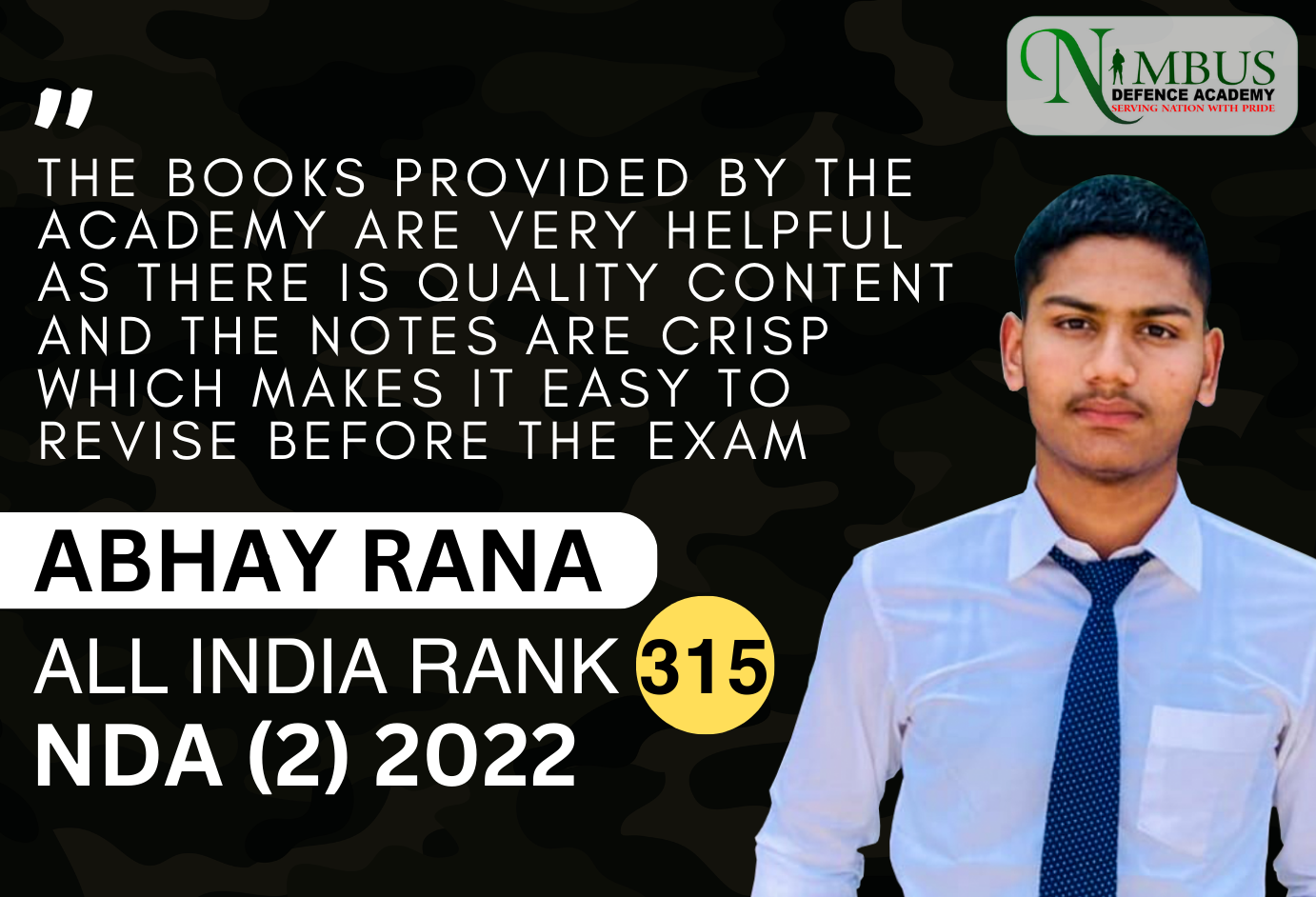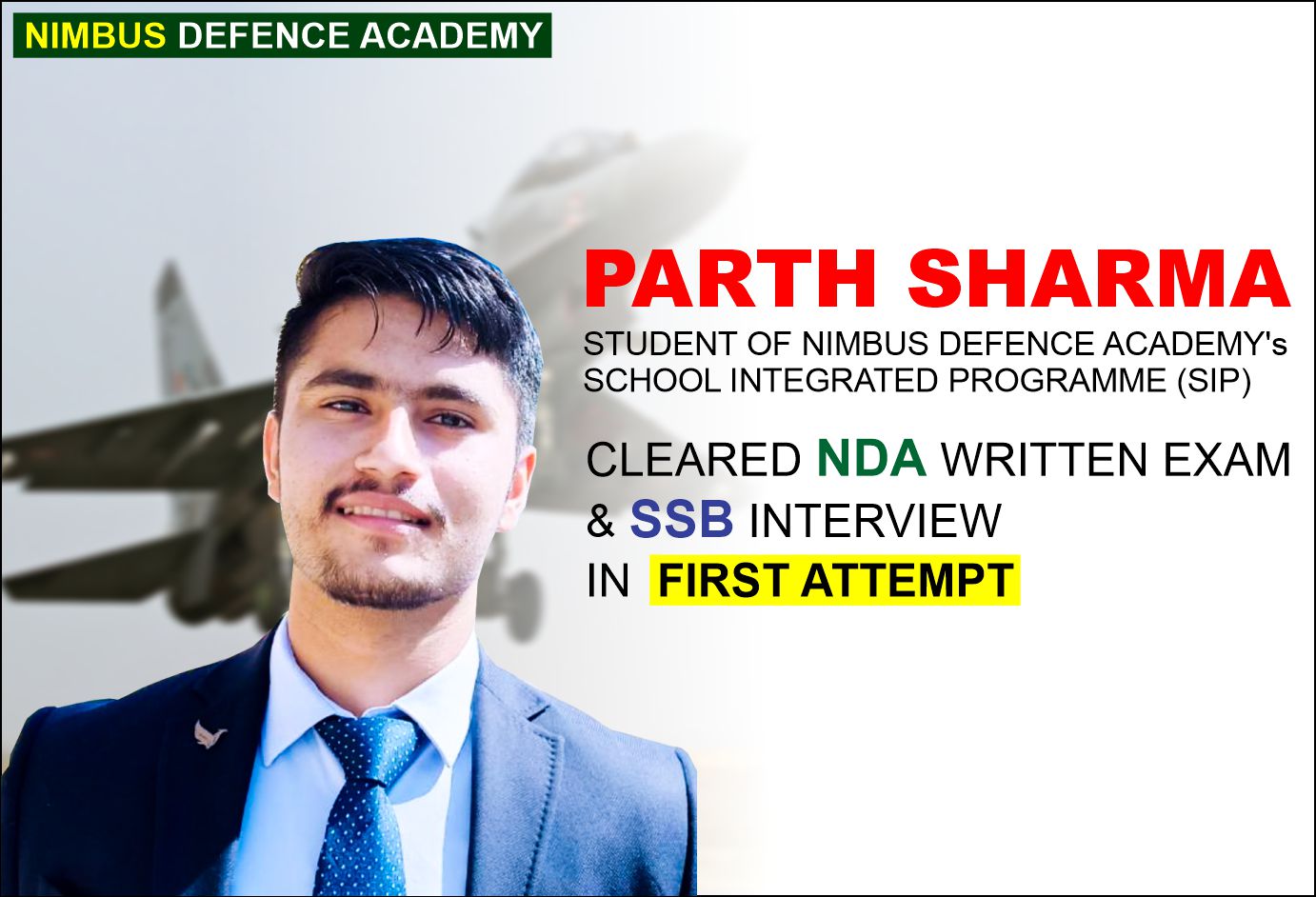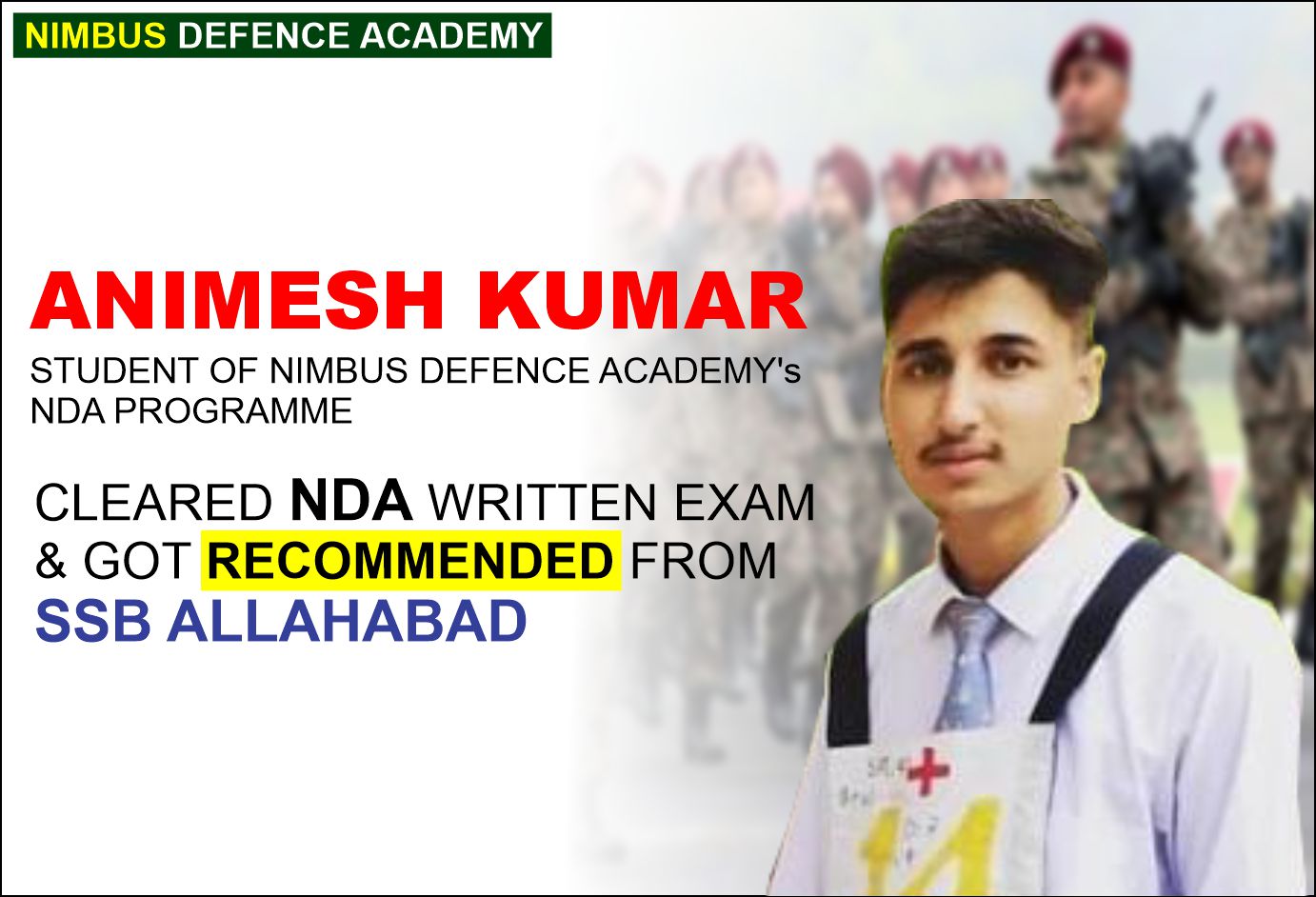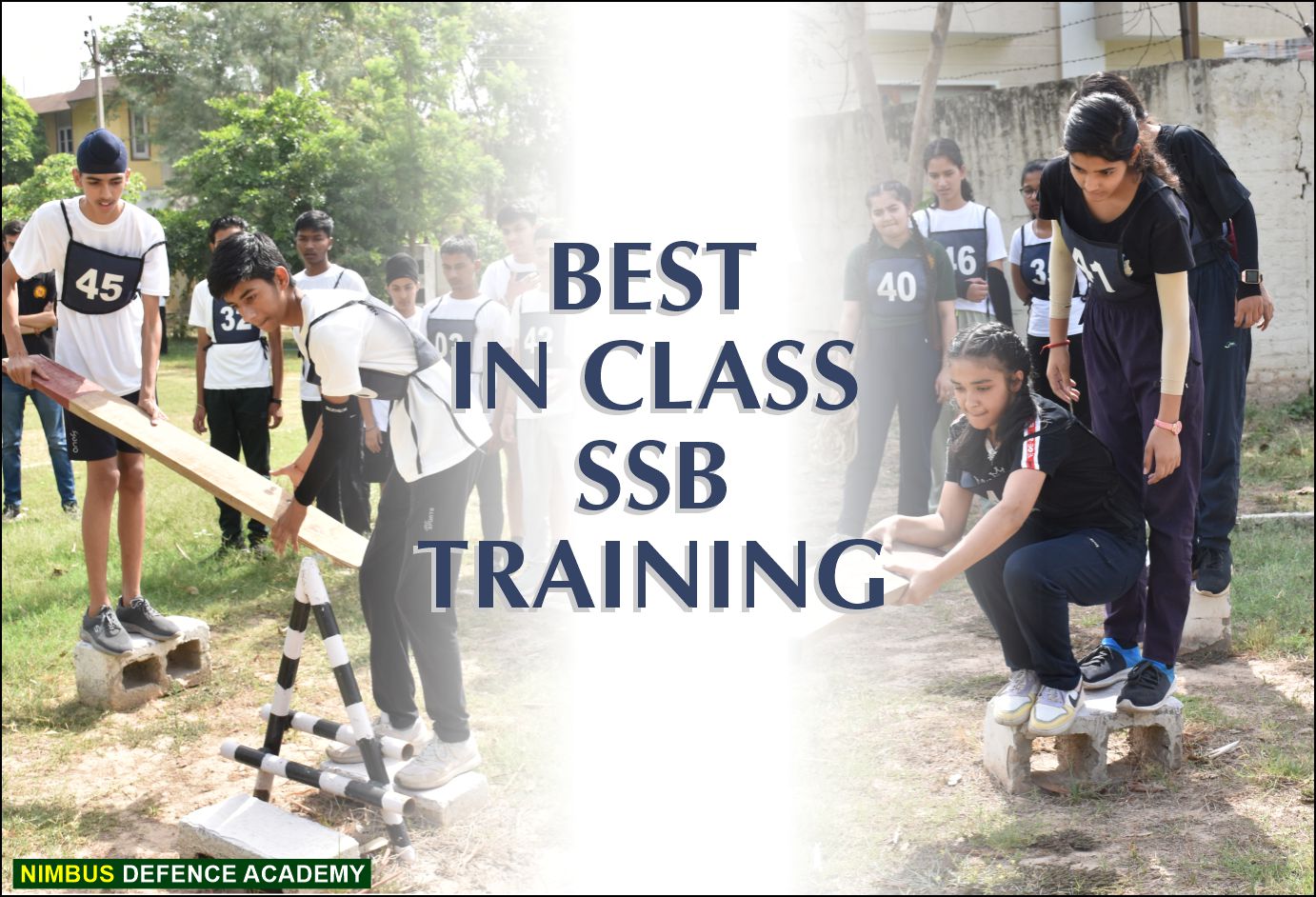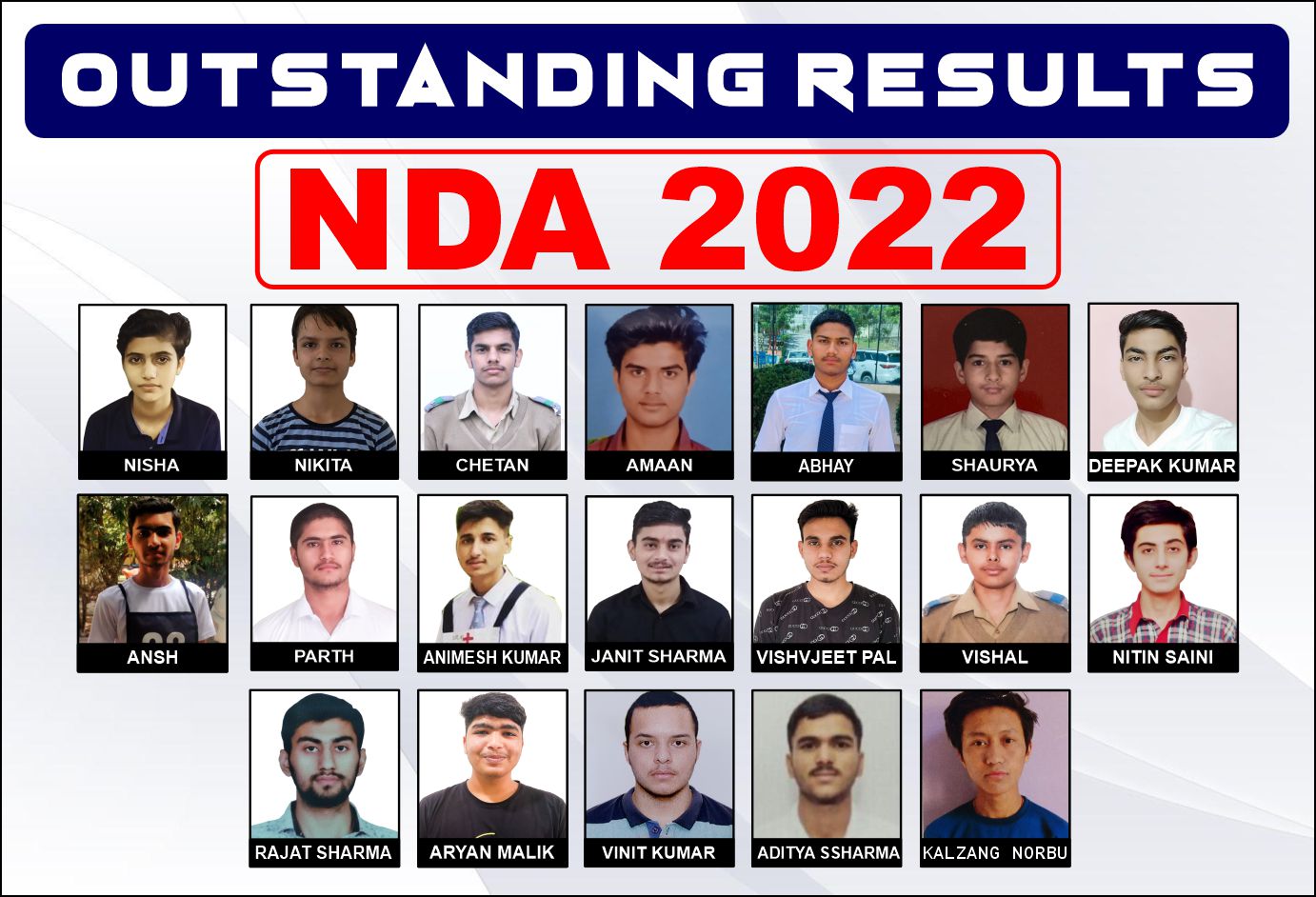 And, Book a Free Counselling Session
Top NDA Coaching In Chandigarh
NIMBUS DEFENCE ACADEMY
is one of the India's Pioneers institutes for Defence examination preparation. Headquartered in Chandigarh, we provide Learning features that are unparalleled in the country. We have a Team of Dedicated and Respectable Professionals with Proven Credentials and Passion for Transforming the Youth. All the students are guided by the most experienced Trainers that have been working in the industry for years and know the INs and OUTs of training students to the core. What sets apart NIMBUS from Other institutes is our Success ratio, which is best across India & We are proud to produce Hundreds success stories till date.
PARTH SHARMA - CLEARED NDA & SSB in 1st ATTEMPT
NITIKA: Cleared NDA Written & SSB Interview in First Attempt
Our Vision is to become the First & Last destination for the young aspirants seeking career in Defence forces, be it through NDA, CDS, AFCAT or any other Defence entry. Even amongst the Top NDA Coaching academies in Chandigarh, Nimbus Defence Academy stands apart. Owing to our best in class infrastructure, well-planned curriculum, experienced trainers & comprehensive study notes, Nimbus Defence Academy has been producing unparalleled results.
NDA Aspirants can Enrol for various long term & short term programs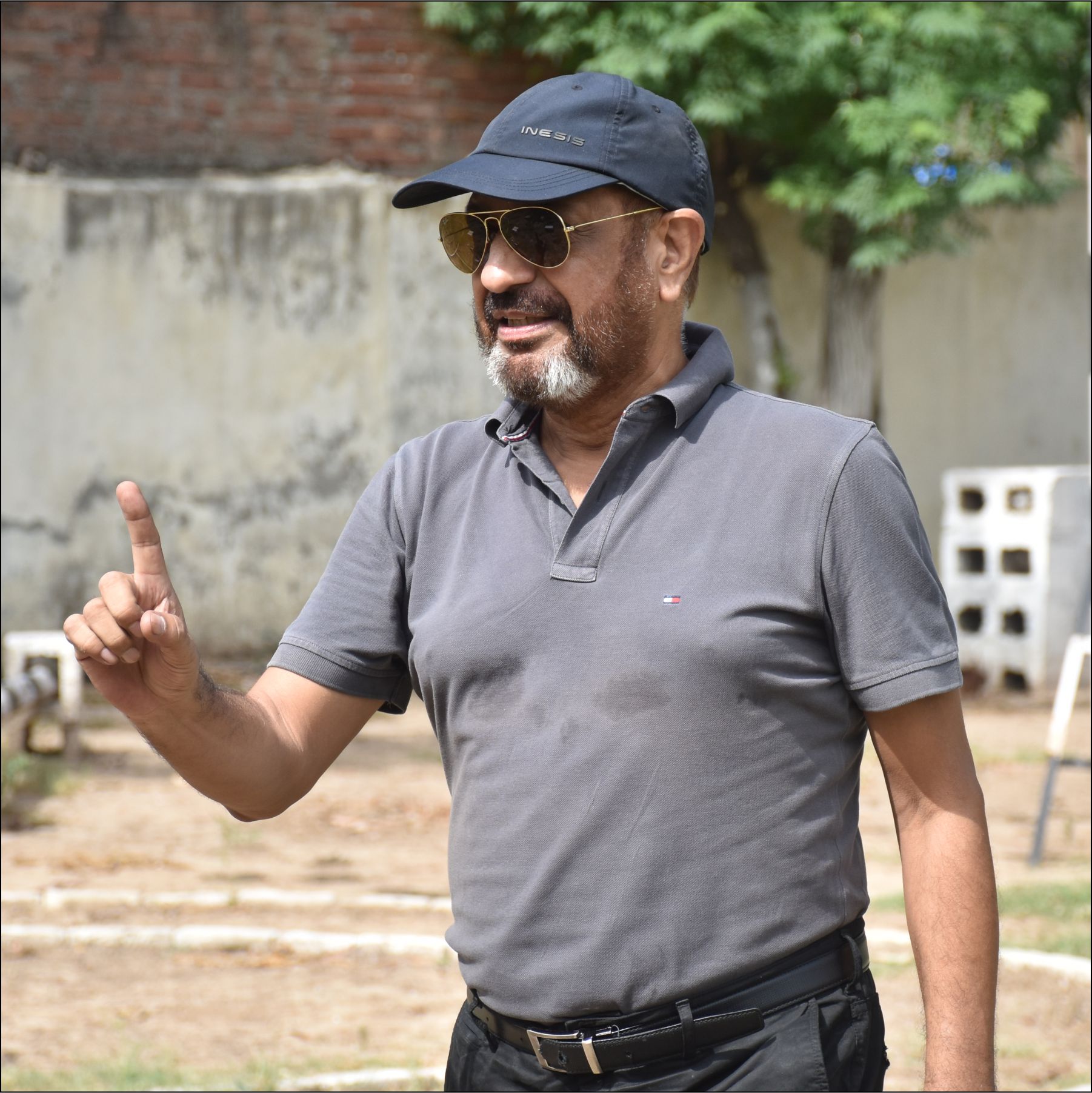 WING COMMANDER
WING COMMANDER
EX GTO
Wg. Cdr. I.S. Chahal is Ex – NDA accomplished Pilot of the Indian Air Force. He has assessed numerous cadets during his 6 years tenure as a Group Testing Officer in Two separate SSBs. Being himself an EX-NDA cadet, he very well understands the challenges faced by the aspiring cadets and his vast experience and knowledge enrich the cadets & brings out their true self.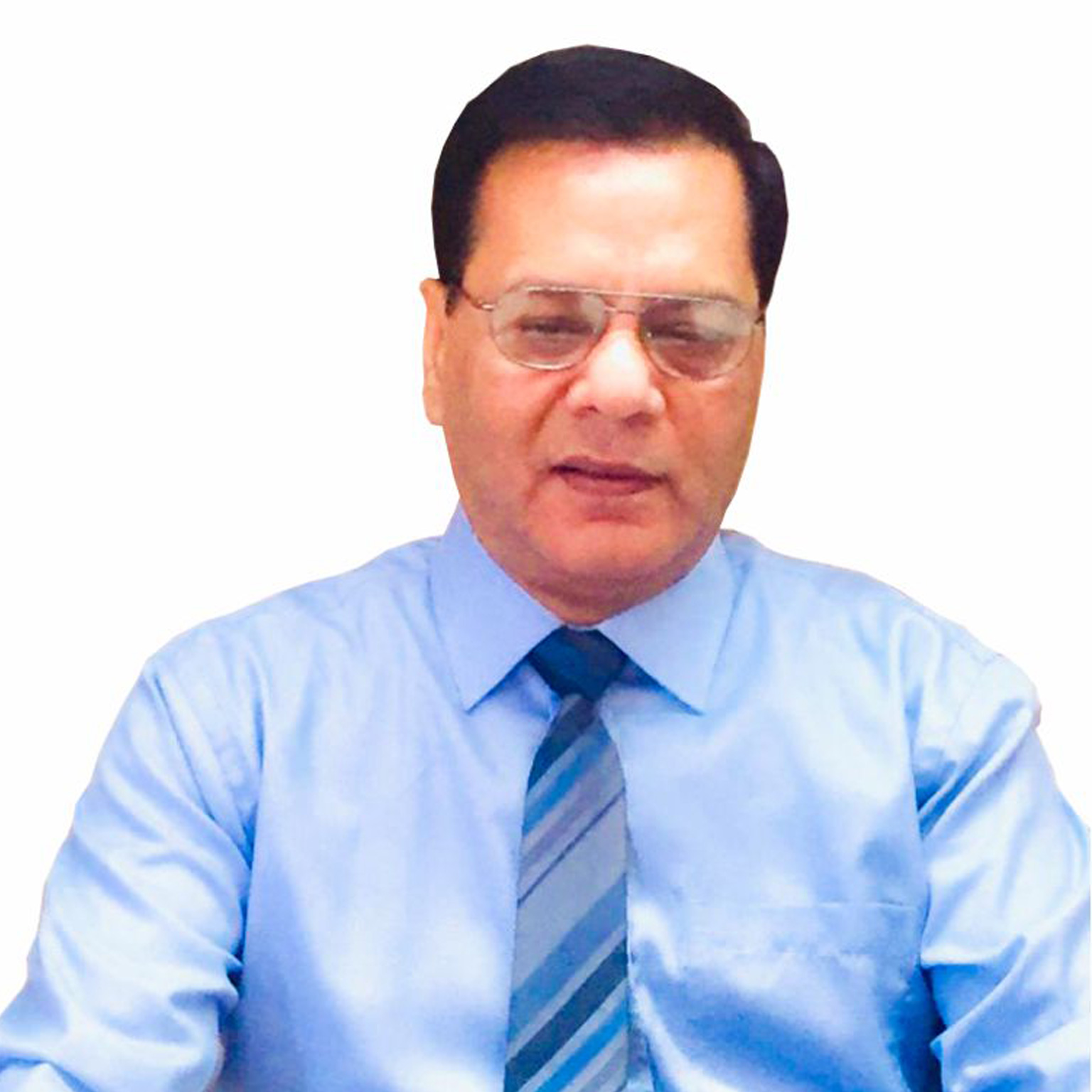 LT. COLONEL
RAVI SHARMA
EX GTO
Lt.Col Sharma is a Former Senior G.T.O . He is also a former ADC to State Governor. He has a Vast Experience of 6 years as an assessor in SSB. He has successfully mentored Hundreds of Candidates torealise their dream of Joining the armed forces of India.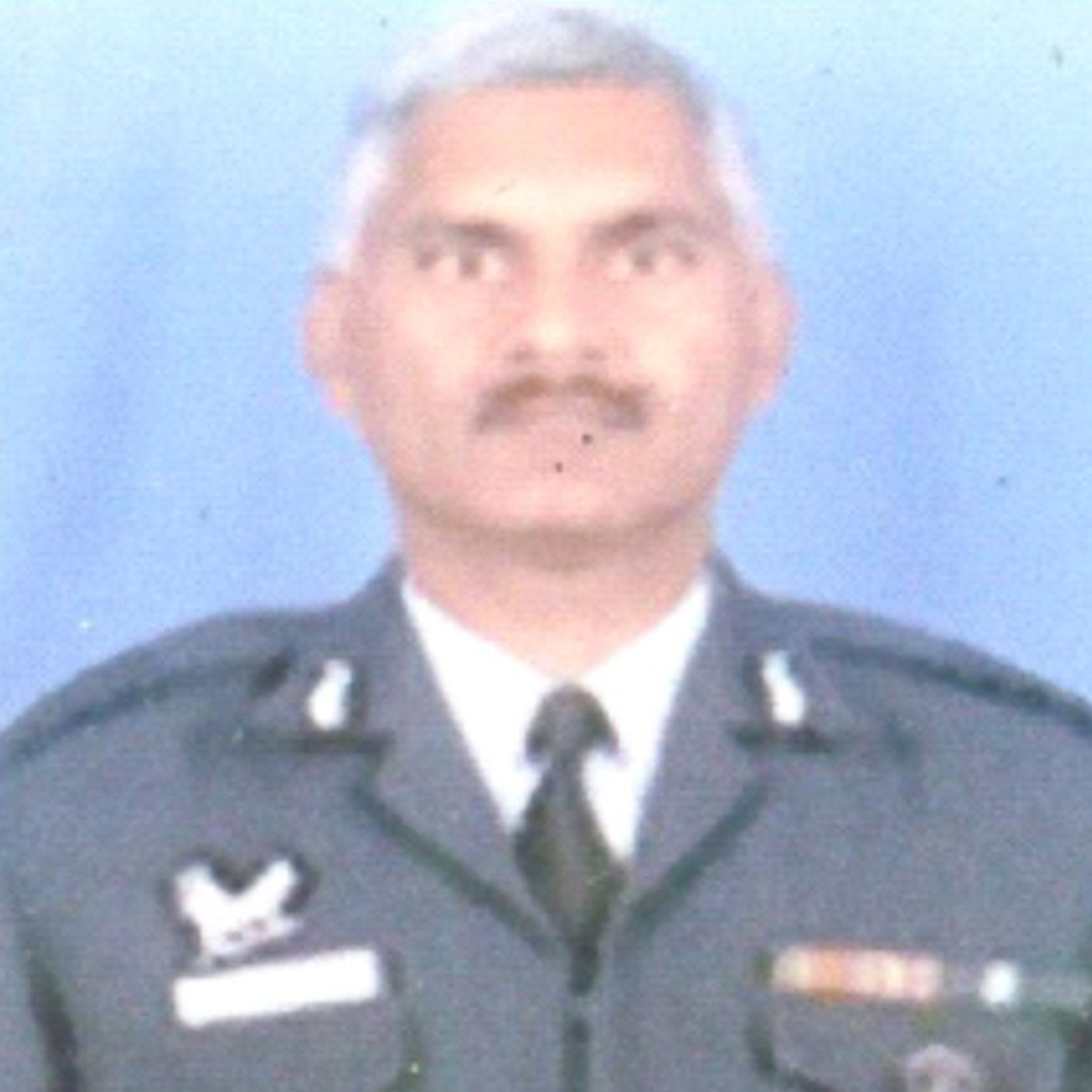 GROUP CAPTAIN
D.K TANWAR
EX. INTERVIEWING OFFICER
Gp. Capt Tanwar headed the Training school at Defence Institute of Psychological Research (DIPR). During his two tenures at Air Force Selection Board Varanasi & Dehradun, He evaluated and identified potential candidates for induction as officers into Defence services. He has conducted about 8000 personality interviews.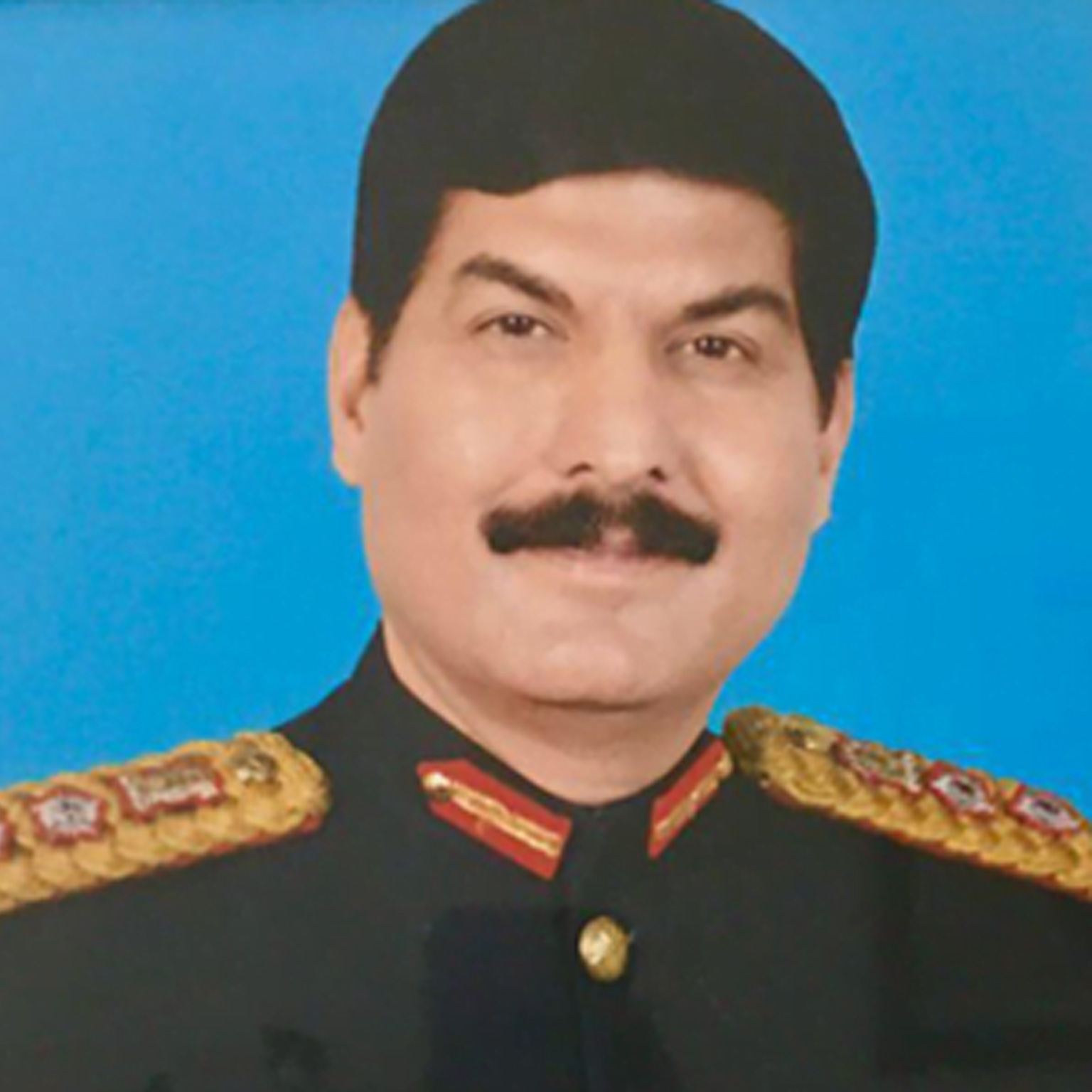 COLONEL
ARVIND
MENTOR & MOTIVATOR
Colonel Arvind Kumar is one of the most sought after officers among cadets. Always energetic & motivated to guide & mentor the youngsters. The ex. Officers guide the cadets on OLQs, life skills & share his own life experiences. Colonel Arvind has been instrumental in enriching the cadets with a lot of JOSH & JAJBA to work consistently towards their goal.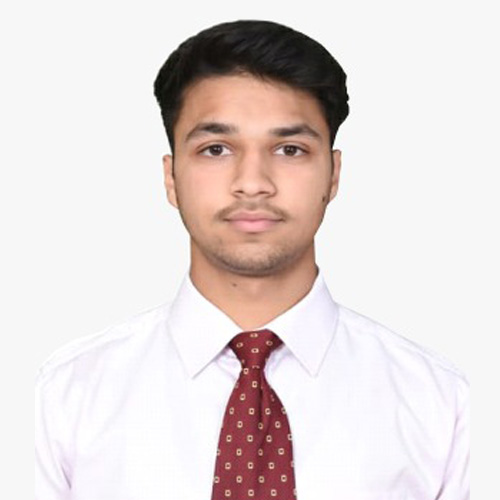 I fully owe my success to NIMBUS DEFENCE ACADEMY. The study material, practice tests, mock Tests, revision sessions, ever motivating teachers & trainers & mentorship program, everything in NIMBUS DEFENCE ACADEMY is perfectly planned for an NDA aspirant. To master the NDA Exam we need a focused study plan & competitive environment, where we can learn & evaluate simultaneously. Also start working on the SSB foundation which is very important to be successful in the final SSB Interview. Work on small things and results will multiply. Just follow what your mentor tells you to do. Be optimistic & straight forward. Consistency will be your biggest strength.
VARSHAM JAIN
CLEARED NDA WRITTEN & SSB INTERVIEW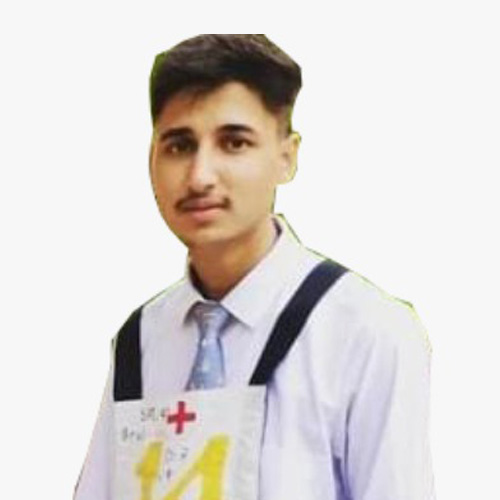 I recently got recommended for TES-47 from 19 ssb Allahabad. Thanks to all your support and guidance. My experience at NIMBUS DEFENCE ACADEMY was very good as I was able to clear my NDA written examination in a short preparatory period. In addition to that, the teaching faculty also helped me in grooming my personality and I was able to be more open while talking to people. The weekend SSB classes and games helped me to stay mentally and physically fit. Moreover the ambience of the academy is perfect to grow and learn. It was a great experience. The exposure we got during the training certainly helped me to develop officer-like qualities.
ANIMESH KUMAR
CLEARED NDA WRITTEN & SSB INTERVIEW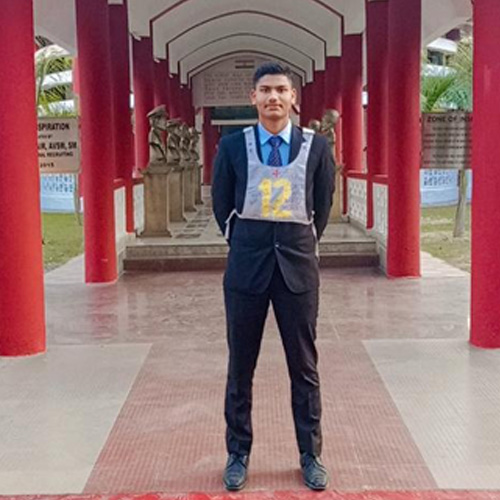 The experience of nimbus academy is one of the best experience of my life and the outcomes are also very fruitful. The environment of the academy is good for the defense aspirants. The books provided by the academy are very helpful as there is quality content and the notes are crisp which makes it easy to revise before the exam. The infrastructure and amenities in the classroom are excellent. Printed notes were provided by the faculties which reduces the written work and student can focus more on the lecture in class. Nimbus academy also provides an option of staying in academy after the class hours to clear all the doubts and queries of any subject. Before the exams one shot classes were carried out which helps in revising whole the syllabus at once. The mock test at the academy are very helpful in uplifting the performance and also gives a clear overview. Efforts of both the teacher and students are important for success and all the faculties of nimbus academy are full of experience and knowledge.
ABHAY RANA
CLEARED NDA WRITTEN & SSB INTERVIEW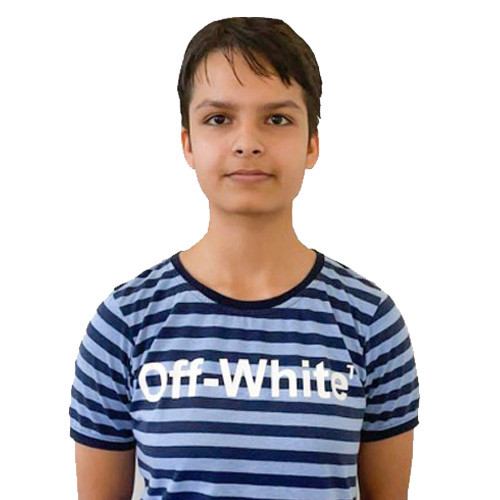 What was thought and expected from the course was just a practical experience but what I got is more than that. The course re-established my belief: what I need is discipline not motivation. Really Blessed to be here. Nimbus holds a great share in my success. Their entire faculty is to be credited for guiding me throughout, and being so assiduous during this entire journey. I am really glad that I chose Nimbus. I am also blessed to have been under the supervision of such wonderful teachers who led me through everything. Finally, I want to sum up by saying that for clearing NDA along with individual hard work, one also requires proper and channelized Preparation and Nimbus flawlessly provided it to every student.
NITIKA
CLEARED NDA WRITTEN & SSB IN 1ST ATTEMPT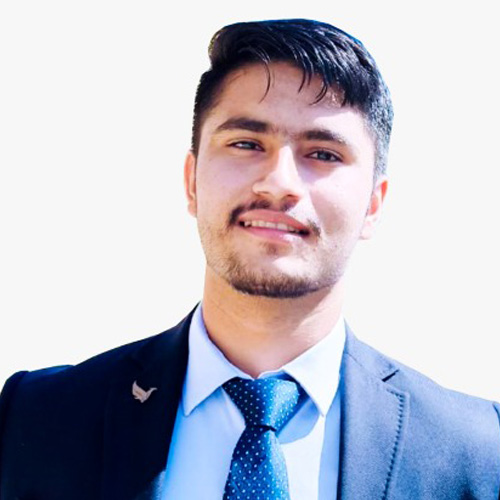 I joined Nimbus Defence Academy just after my 11th class in April and started my preparation for the written exam to be held in September (postponed to November). The Teachers at Nimbus were very supportive. They cleared my every doubt even during holidays. We got individual attention and weekly feedback on our performance and our weak areas were discussed. Tests were regular according to the schedule. The study material provided by NIMBUS was very helpful & attempting questions from Nimbus books boosted my confidence. Focus was also given on games and extracurricular activities. Apart from written preparation Nimbus also provided SSB foundation classes on every Sunday, which helped a lot in SSB. During the last days there used to be classes of 8-9 hrs which helped in revision.
PARTH SHARMA
CLEARED NDA WRITTEN & SSB IN 1ST ATTEMPT
COURSES for NDA Program at NIMBUS DEFENCE ACADEMY
A. School Integrated Program for NDA :
NDA + Schooling + SSB + Hostel + Sports + Extracurricular Activities
NDA QUEST :- A 2-Year School Integrated Program:-
1. NDA + Schooling + PCM + SSB + Hostel + Ground
2. Comprehensive Study under 1 Roof
3. 8 Hours Daily Schedule in School
4. Disciplined & Guided Study in Hostel
5. Best Study Environment in Hostel & School
6. Hygienic Food & Living with swimming option
7. Milk , Fruit & Evening Snacks
8. 24*7 Guidance & Mentorship
9. SSB Foundation from Day 1
10. Daily 5AM to 10PM Schedule
11. Training on Spoken English, Discussions, Personal Interview, Extempore from day 1.
12. Minimum 2 sports to choose from 7 Sports
13. Mandatory participation in over 10 events like, quiz, debate, extempore, declamations, etc.
14. Library Facility for Self Study
15. Study Package – Designed & delivered by Experts
16. 16 Books , 1000+ Tests & 15000+ Questions
17. Mentorship by Colonel Arvind Kumar & Lt. Colonel Manish Kumar ( Ex. GTO)
18. Complete focus on Board Exams as well.
19. 20 Mock Tests with National Ranking
20. Previous Year Papers with Discussion
B. NDA Written Exam Preparation :- ( 1 Year , 6 Months & 3 Months Crash Course)
NDA Written Exam – Offline / Online Program , Study Material , Mock Tests , Revision Classes – A wholistic approach to NDA Written Exam & SSB Interview.
NDA Program Features:-
1. Comprehensive Study under 1 Roof
2. 6 - 8 Hours Daily Class Schedule
3. Disciplined & Guided Study
4. Best Study Environment in Hostel & Institute
5. 24*7 Guidance & Mentorship
6. SSB Foundation from Day 1
7. Training on Spoken English, Discussions, Personal Interview, Extempore from day 1.
8. Facility for Self Study & Doubt Classes
9. Study Package – Designed & delivered by Experts
10. 10 Books , 800+ Tests & 12000+ Questions
11. Mentorship by, Colonel Arvind Kumar, Wing Commander I.S Chahal (Ex GTO AFSB – Dehradun), Gp Captain Tanwar ( Ex IO AFSB Dehradun & Vanaras), Lt. Colonel Manish Kumar
12. 20 Mock Tests with National Ranking
13. Previous Year Papers with Discussion
C. SSB Program
The entire program is designed & delivered by the experts from Defence forces. Wing commander IS Chahal ( Ex GTO ) & Interviewing officer Gp Captain DK Tanwar. The program is further supported by Colonel Arvind Kumar, Wing Commander SK Sharma, Colonel Urvinder Singh along with many other ex officers from Indian Defence Forces.
Course for SSB Interview Preparation :-
14 Days Program for SSB
1 Month + 14 Days Program for SSB
Why coaching is must for NDA?
NDA followed by SSB is considered as one of the most important and most challenging exams of all time. Proper guidance and in-depth information and knowledge can help you get through it. Nimbus Defence Academy is one of the
best NDA Coaching Institutes in Chandigarh
provide in-depth knowledge and help you understand every topic better.
• Discipline: Discipline and dedication go hand in hand in NDA. Carelessness cannot be tolerated in the academy after getting into NDA. NDA Coaching institutes in Chandigarh will prepare you getting disciplined with homework, study and workouts. However, self-study cannot make you do that. Regular tests in coaching can make you more confident apart from others.
• Subjects: As we all know, the NDA exam includes some of the most challenging subjects like mathematics and general knowledge. So you need to have an in-depth understanding of every issue. Through self – study, you might not be able to get the information you want or full information. Coaching institutes provide you with different study materials that can give you general information about all the topics.
• Time: Time management plays an essential role in competitive exams, mainly when it contains negative marking. You might know the answer to all the questions; however, you will not attempt all without proper guidance. NDA Coaching institutes in Chandigarh professionals help you with the technique through which you can solve problems in less time, divide your time and give adequate time to every section without skipping questions. That's where NDA coaching centres in Chandigarh play a vital role.
• Mistakes: Self – study is challenging, and it is not necessary after giving your maximum time you will get into it. The reason is fewer sources and not having a mentor to help. Mistakes are very common during studies, NDA coaching institutes in Chandigarh professionals figures out your mistakes, guide you and help you rectify it. Although in self – study fewer possibilities of this.
• Confidence: Cracking NDA exam is not easy at all; it requires a lot of confidence. Since NDA is not just a mental exam, it challenges you physically as well. Confidence comes while practicing, and it is one of the essential factors to crack NDA. Coaching in Chandigarh makes you efficient by giving regular tasks that boost your confidence, hence excellent NDA exam performances.

Dear Aspirants,
Before we move ahead, I would like to congratulate you for your decision to dedicate your life for the NATION. Today India needs, it's Young Brigade to come forward & take charge to command the future leadership. One needs to possess Courage, Commitment, Confidence, Discipline & Passion to be a part of Indian Defence Forces. Every year lakhs of aspirants dream of becoming officers in Indian Defence Forces, but only around 3000 cadets become officers in a year. As an aspirant you only have 3 to 4 realistic attempts to make it to National Defence Academy, the most prestigious institution of Indian Defence Forces. You need to go through Written Exam followed by SSB Interview. So, when we are thinking of NDA, CDS or AFCAT, we are actually competing with the best across India. Yes, it's not going to be easy to be an Officer in Indian Defence Forces. But with a team of experts, which is mentored by officers from military forces, we provide you the best of the learning environment. We are not just teaching you, rather we bring out the leader in you. The Exams like NDA, CDS, AFCAT along with SSB need in depth preparation followed by practice & mentoring by the experts. One thing I can assure you is that JOINING NIMBUS DEFENCE ACADEMY is going to be the Best Decision of your life. We are here to shape your careers & fulfill your dreams. So, Let's start our journey together. First you have to believe that "You have it in you, then only you can prove it". We are proud to be a part of the journey of your life.
Tips for you how to choose the Best NDA coaching Institutes in Chandigarh
Things to keep in mind are:
RANKING: –
Always check the ranking of your coaching institute before getting yourself in it. Order plays an important role. The higher the ranking, the better the facilities & faculty. Nimbus Defence Academy is considered to be highest ranked among NDA aspirants. At Nimbus the students are groomed in such a way, to bring out the best out the cadet. The testimonials of the successful candidates & feedback from existing students can guide you – Why NIMBUS DEFENCE ACADEMY is the 1st choice among the cadets aspiring to be Officers in Defence Forces.
FACULTY: –
Faculty experience plays a vital role at the time of selecting A great mentor or professor can guide and train you the way you need. Experienced faculty learns how to teach individual kids according to their capabilities and increase their limits without unnecessary pressure. The experienced faculty& their in-depth knowledge will help in getting better training and the maximum chances of cracking the NDA exam and fulfilling your dream. At NIMBUS DEFENCE ACADEMY, the entire team is highly experienced in their delivery & dedication towards the upliftment of the cadets. Be it mentorship & Motivation by Ex. Officers from Defence or training for NDA. The cadets are also trained for extracurricular activities like Debates, Speech Competitions, Public Speaking, Quiz contests along with sports & games. FACILITIES: In order to clear the NDA Exam one needs a comprehensive approach to the exam. The cadet needs –
a. Study Material on latest exam patterns
b. Understanding the shortcuts & their application
c. Mock Test Series
d. Revision & Doubt Classes
e. Previous Year questions practice
f. Self Study in Groups
NIMBUS DEFENCE ACADEMY has been the pioneer in producing unparalleled results in India. The highly structured curriculum, the above mentioned facilities & commitment of the entire team towards students is the reason behind NIMBUS DEFENCE ACADEMY being the 1st preference among defence aspirants.
FEE STRUCTURE: –
We understand money matters a lot. Finding the right Center for NDA Coaching in Chandigarh Fees at affordable prices takes a lot of research. Do not forget to ask about any hidden charges and always compare fees structure from various other Institutes for NDA coaching in Chandigarh. It is not essential that only expensive NDA coaching centres in Chandigarh can provide good coaching experiences. Your exam clearance depends on many factors like faculty, study material, your ability and many more.
RESULTS & ALUMNI:-
Get to know about your alumni before getting into the institute is very important. It is worth knowing about your institute and coaching. Alumni can tell you the success rates of the NDA coaching institutes in Chandigarh. We at NIMBUS DEFENCE ACADEMY, do boasts of highest success rate in NDA as well as SSB Interview. So these were some of the tips which you need to know before getting into a coaching institute. Since we know, it is not easy to find the perfect NDA coaching institute in Chandigarh for you. Although it is imperative to get yourself enrol in the best NDA centres in Chandigarh. Hope with the help of the above information you will get the best coaching institute in Chandigarh. We wish all the very best to all the aspiring aspirants for your upcoming NDA Exams. We hope you find the BEST NDA coaching in Chandigarh according to your requirements, clear NDA exam, and fulfill your dream of serving the NATION.
Which Institute is Best for NDA in Chandigarh?
All the above were the benefits of getting NDA Coaching in Chandigarh after 10th,11th & 12th. Getting proper and expert guidance can help you fulfill your dream of getting into NDA. So all the aspiring aspirants should look forward to experts in Chandigarh. Do not wait - enrol yourself in Nimbus Defence Academy, the best NDA coaching centre in Chandigarh. Nimbus Defence Academy is based in Sector 34, Chandigarh.
About NDA Exam
The cradle of Military Leadership, NDA is a tri services training establishment where Army, Air Force and Navy cadets train before they proceed to their respective service academy for post commission training. Conducted twice in a year by UPSC and hailed as one of the toughest exams in India, the exam consists of 120 MCQs from Mathematics and 150 from General Ability. Candidates must prepare for Class XII level Mathematics, Physics,Chemistry, Basic Geography, History, Current Affairs and general awareness about India to succeed in this exam. At Nimbus Defence Academy for NDA Coaching in Chandigarh, students can enroll for a variety of short and long duration NDA entrance exam courses. Nimbus Defence Academy for Best NDA Coaching in Chandigarh Sector 34 after 10th, 12th, considered to be the heart of Chandigarh, developing necessary knowledge and exam taking skills to crack the NDA exam. The aspiring students from all across north India, come down to Chandigarh to prepare for NDA exam & SSB interview. Today Nimbus NDA Coaching in Chandigarh Sector 34 boasts of one of the best state of art infrastructure developed for training NDA exam & SSB interview. With a team of experienced trainers, weekly mock tests and personalized guidance, the students can aspire to fulfill their dreams of becoming commissioned officers in the defence forces. Not only for the written part, Nimbus offers state-of-the-art infrastructure and renowned faculty for preparing aspirants for the SSB interview, which is a pre-requisite for entering the Forces not only through NDA, but CDS and OTA as well.
NDA II - 2022 Exam Notification
NDA QUEST :- A 2-Year School Integrated Program:-
1
Application opening date
18th May, 2022
2
Last Date
7th June, 2022
3
Exam Date
4th September, 2022
4
Result
November , 2022
5
SSB Interviews
January to March 2023
6
Final Result
May 2023
7
150th Course Commences at NDA
2nd July , 2023
Eligibility
Qualification
ARMY : 10+2 (Any Stream) Complete or Appearing in 10+2 Exam
Air Force : 10+2 (Non-Med) Complete or Appearing in 10+2 Exam
NAVY: 10+2 (Non-Med) Complete or Appearing in 10+2 Exam
Age
16.5 Years to 19.5 Years. The Candidates still need to Cross check exact age eligibility at the time of Notification.
NDA EXAM Pattern
S. No
Exams
No. of Questions
Time
Marks
1
Mathematics
120 Questions
2 Hr 30 Min
300
2
General Ability
150 Questions
2 Hr 30 Min
600
Total
900 Marks
NDA EXAM Syllabus
A. Paper I: Mathematics
Set Theory
Definite Integrals
Binary System
Relations Functions
Differential Equations
AP-GP-HP
Limit Continuity
Matrices & Determinants
Binomial Theorem
Differentiation
Complex Numbers
Logarithms
Integration
Quadratic equation
Trigonometry
2D & 3D Geometry
Vector Algebra
Statistics
Permutations & Combination
Probability
B. Paper II : General Ability TEST​
Part A 50 Qns
English Language
Grammar
Comprehension
Para Jumbles
Synonyms
Antonyms
Finding Errors
Idioms & Phrases
Part B 100Qns
Physics
Chemistry
Everyday Science
Awards & Honours
Geography
History
Current Affairs
Sports
NDA Exam Cut Offs
Year
NDA I
NDA II
2019
342 Marks out of 900
346 Marks out of 900
2018
338 Marks out of 900
325 Marks out of 900
2017
342 Marks out of 900
258 Marks out of 900
2016
288 Marks out of 900
229 Marks out of 900
NDA Selection Process
NDA selection is a multistage exam process
Phase I: Written Exam of NDA: 900 Marks ( Conducted twice a Year )
The Cut offs of Last 4 Years of NDA written Exam are-
Year
NDA I
NDA II
2019
342 Marks out of 900
346 Marks out of 900
2018
338 Marks out of 900
325 Marks out of 900
2017
342 Marks out of 900
258 Marks out of 900
2016
288 Marks out of 900
229 Marks out of 900
Phase II: SSB Interview: 900 Marks
( If the candidate clears the written exam he is called for SSB Interview at various SSB centres across India). SSB Interview is conducted over a period of 5 days. It Includes ;-
a. Screening Round:
On Day 1, Officer Intelligence test is conducted followed by PPT Test. In case a candidate is not qualified in the test he is sent back. This is called screening Test at SSB Centres. The shortlisted candidates stays in the SSB centre for next 3-4 days for the SSB Interview process.
b. Psychometric Tests:
On 2nd day the candidates go through the psychometric Test which are evaluated to judge the attitude & traits of the candidate.
c. GTO Round :
Group task officer will take you through the ground for group tasks, individual tasks, extempore, group discussion, group planning etc. The GTO round is conducted on 1 day either on day 3 or 4.
d. Interview:
Personal interview is conducted on any of day 3 or 4 a per the schedule. The interview is one on one, which means only 1 person will interview the candidate. It is around 20-30 minute process.
e. Conference :
The conference is done on the final day. Its like a panel interview only where the Interviewing officer, GTO & psychologist are all together in the panel. It is a last opportunity to showcase your potential in case you have not been able to perform as per your potential. It is presumed that conference is important only for those who are border line cases.
f. Result:
After Conference interview the final result is declared. The candidates who are not recommended are sent back to their homes & the candidates who are recommended proceed to next phase of Medical Examination.
Phase III- Medical Examination
The candidates who are recommended by the SSB have to undergo medical examination done by Special Medical Board. They carry out various tests like : -
1.
Blood Tests & Urine Tests
2.
X Ray & Ultrasound
3.
Ear , Nose , Throat , Eye & Dental Tests
4.
Height , Weight , Blood Pressure , Heart Beat Test
Based on medical Tests the candidates are declared
a.
Medically Fit : Will be considered for Final Merit list.
b.
Temporarily Unfit : There may be certain medical issues which can be overcome with some treatments so the candidates may appeal for Re medical and then after the treatment can be declared medically fit and be considered for merit list.
c.
Permanent Unfit : The candidates might be having some permanent mediacl issues which makes them permanently unfit for the defence forces. If they wish to then they can appeal for Re – Medical within 42 days at selected military hospitals.
Phase IV
MERIT LIST will be prepared for the candidates who are medically & physically fit to join the forces. The Merit list is prepared on the basis of
a.
Score in written Examination – 900 Marks.
b.
Score in SSB Interview - 900 Marks.
TOTAL = 1800 Marks
Final Cut Offs for Merit List : - Out of 1800 Marks.
The Cut offs of Last 4 Years of NDA written Exam are-
Year
NDA I Final
NDA II Final
2019
704
709
2018
705
688
2017
708
624
2016
656
602
Our Learning Approach
With expertise of over 15 years Nimbus Defence Academy has been the pioneer in providing quality training & guidance for the candidates seeking careers in Defence Forces.
No other Institute provides even 50% of the testing that we do.
We start right through the fundamentals & Basics so that the candidates can develop the concept clarity & are capable of applying these concepts in the Exam.
The Students have 24*7 access to their mentors and seek solution to any of the problem they are facing.
We build up the values like leadership, Initiative, Sacrifice, Courage, Commitment & cooperation among our candidates which are the most sought after skill in the defence officers.
We have a strong R & D cell where our team continuously works on updating the study material on latest Exam patterns. Our Students always have an edge as they get to study what has being asked in the latest exams.
The students are provided with Topic Tests, Section Tests, Speed Tests, Quizzes & Full Length Mock Tests. We believe the real learning comes through practice & we provide over 600 Tests covering more than 12000 questions to give the best exposure to our students.
The Hostels facility is provided with proper curriculum for study, games & recreation. The study timings are fixed & we strive to provide the best learning environment to our candidates.
The Best Platform for NDA Exam Preparation

High Quality Stadanrd
In Nimbus we have set high standards of Teaching with all the faculties being experienced trainers & the entire course is designed on latest Exam Patterns.

Experienced Trainers
At Nimbus all the trainers are Highly Experienced Trainers. They are subject masters and have trained over 4 lac candidates for various competitive exams among themselves.

Study Package: 10 Books
The Students gets comprehensive study package of 10 Books & access to our online platform to practice Thousands of Questions.
Highly Structured Program
The Entire course curriculum is meticulously designed by the experts who have years of expertise in training the youngsters for Defence exams.

Learn–Practice–Revise-Mocks
With over 15 years of expertise in educational sector we fully understand how to get the best out of a teenager. We follow Tried & Tested principle of Learn – Practice – Revise - Mocks.

Mobile App
One of the biggest technology tools with the students is going to be Mobile App which provides the complete video course, Quiz , Tests, Nock Tests along with Ranking.

Interactions with Past Masters
The students get the opportunity to interact with the successful candidates of the past. There are regular sessions with Defence officers to provide guidance & motivation to our candidates.

Personal Attention & Mentorship
At NIMBUS Defence Academy we provide mentors to each of the candidate and they get the 24*7 access to the mentor. The mentor takes a candidate through the entire preparation taking care of the learnings of the candidate.

LIVE Interactive Online Classes
We have been one of the pioneers of taking education to Online Platforms. The students who can not join the physical classes can attend the LIVE INTERACTIVE CLASSES through our Online platform in order to chase their dreams.

Personality Development Program
We at Nimbus work on personality development right from Day 1. We know that clearing written exam is not sufficient we need work on holistic grooming of the Individual. We conduct extempore, Group Discussions, Debates, writing exercises to hone the real potential.
One Of The Most Comprehensive Study Packages


Your Roadmap to Success
Join India's Most Comprehensive Online Program for NDA Exam Preparation
Register Now for the Course